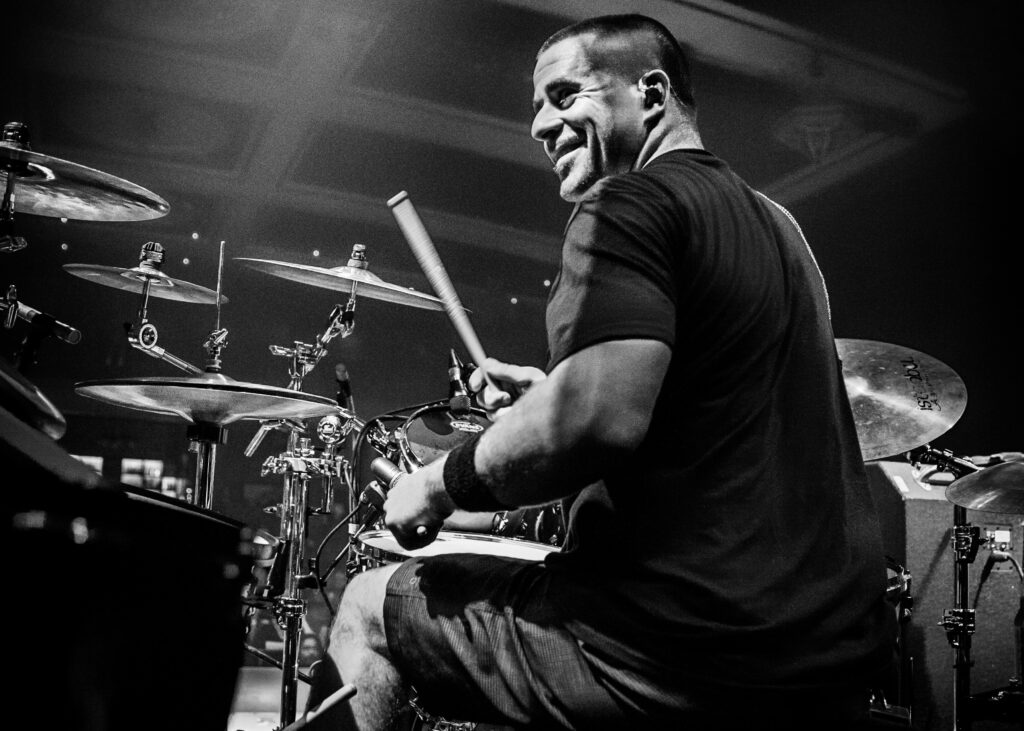 Ryan Moran has been a full-time member of the stylistically diverse band, Slightly Stoopid since 2003 and has recorded 7 albums with the band. They have toured internationally, and shared the stage with many legendary artists. Described by themselves as "a fusion of funk, rock, reggae and ska with hip-hop, metal and punk," Slightly Stoopid gives Ryan a wide palette to paint his percussive contributions. "It's been an incredible ride…We have done things I could only have dreamed of as a kid." The band has all types of content on every major social media channel, and has achieved many landmark goals, such as headlining a sold-out show at Red Rocks Amphitheater in Colorado, 10 years in a row.

When you listen to Rymo's solo album 'Structure and Flow', you immediately hear the myriad of influences that have found their way into this drummer's playing. "Pulling from different musical and drumming cultures really grabbed me. I wanted to create something cohesive with a world influence and element of variety," says Moran of the release.

This isn't surprising when you learn a bit about the musician's background. Born in San Francisco and raised in San Rafael, Ryan was bitten by the music bug shortly after his 10th birthday. He had two older sisters that provided a wide range of listening opportunities. One sister was full on punk rock and the other, a Deadhead. Sprinkle in generous amounts of 80's top 40 radio and you have Ryan's musical recipe. As far as early influences go, Ryan chooses Led Zeppelin and their drummer, John Bonham and Rush's Neil Peart as particularly influential.

Inspired by his High School music teacher, Mark Peabody, Ryan continued his pursuit of knowledge by earning a scholarship to the Berklee College of Music in 1993 for their 5 week Summer program. There he met musicians from all over the U.S. His continuing education led him to apply to several different colleges, but San Diego State University had all the right factors. Ryan attended SDSU beginning in late 1994 until 2000, when he earned his BA in Music. Since his graduation, he has continued his pursuit of the groove, which has led to involvement in several projects.

Moran is especially proud of Slightly Stoopid's Closer to the Sun release from 2005, which was his first with the band. The majority of the record was produced by Miguel Happbodlt, former producer of Sublime and member of The Long Beach Dub Allstars. Recalling the recording session, Ryan says, "Miguel had a rad, low-fi, punk rock approach. We set up in the big drum room at Total Access Studios, in Redondo Beach, California. The drums were going to 2" tape, we were all playing live, bleed through and all. Once we had a good drum take we would dump these tapes into Pro Tools. I learned so much from him about how to record and mic drums in a studio setting."

Another long term project Ryan has been involved in is Agent 22, his collaboration with Chapman Stick player Tom Griesgraber. The band's music is based in the instrumental rock world, but is also influenced by classical, funk, jazz, and world music. The duo offers Ryan the opportunity to stretch out beyond the drums and features his playing on vibes, synth, and the Australian didgeridoo, as well as Latin American, African, and Asian percussion. The duo has done many club and corporate gigs, as well as being a staple at the Del Mar Fair for many years.

Although his primary focus has been with these two groups, Rymo remains open to individual and collaborative exploration. "I try to perform and practice in a way that is consistent and with positive energy and intensity."

Slightly Stoopid has performed live with many guest artists, ranging from Snoop Dogg and Chali 2na to Barrington Levy, Don Carlos and Stephen Marley, to Fishbone's Angelo Moore and Dumpstaphunk's Ian and Ivan Neville, to name just a few.

In the studio, Moran has contributed to over 40 albums playing drums primarily, but also vibraphone, piano, didgeridoo, and world percussion. He has worked with various producers in a wide range of styles and projects. This has led him to recording studios all across the U.S., from sessions in New York City to Circle House in Ft. Lauderdale, FL, to the legendary Sound City in Hollywood, CA.

In addition to his performing and recording credits Ryan is also an educator, being active in giving lessons as a private teacher both online and in person. His YouTube channel 'rymostoopid' has over 60 drum lessons posted and has over a million views. Ryan has also been involved in The Rios Music Project, a private music school in Carlsbad, CA. In the past, he has also taught at the A.R.T.S. music non-profit organization, also in San Diego. He has appeared several times at Notes for Notes music non-profit organization in Nashville, TN and Santa Barbara, CA.

In August of 2015 Moran was featured in DRUM! Magazine and was also included in the book, Sticks 'N' Skins by Jules Follett.

Rymo lists as some of his personal influences as John Bonham, Danny Carey, Dennis Chambers, Vinnie Colaiuta, Tony Williams, Elvin Jones, Stewart Copeland, Peter Erskine, David Garibaldi, Neil Peart, Simon Phillips, Thomas Pridgen, Steve Smith, and many more.